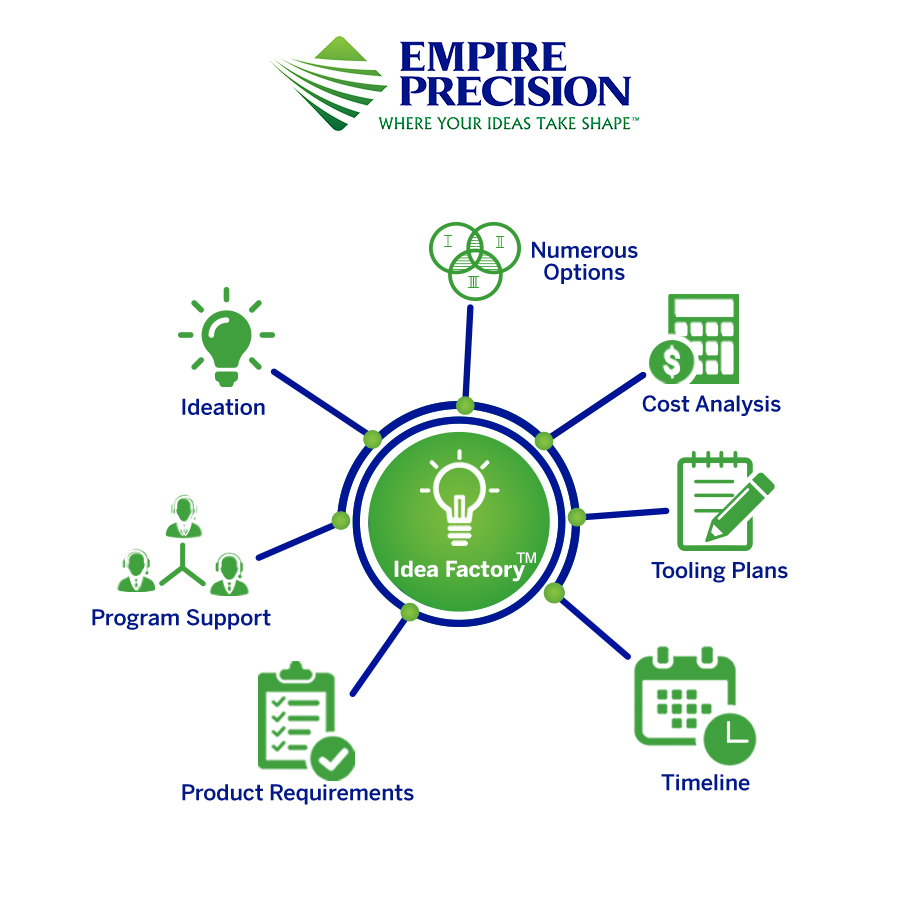 The Idea Factory at Empire Precision Plastics is the first step in the conceptual injection molding process where Empire brings your product ideas to reality. We will collaborate with your team to understand their program needs and we will work with them to help create the best solution.  Empire will proactively manage your projects from conception to market entry and will continue these same management processes to address any ongoing modifications to part requirements needed to improve quality and performance.
We will initiate this collaboration by assigning an Advance Team to your project. This Advance Team will be led by a dedicated Program Manager with assistance from part designers, mold designers, tooling engineers, quality engineers, and if necessary, outside suppliers. The Advance Team will work with your team to understand the part design and functional requirements as well as your overall business strategy and will develop a comprehensive project plan.  As the plan progresses, you will have an open channel of communication to your Advance Team that will give you real-time project visibility.
Our ability to create molding process simulations, to test the feasibility and capability of molded parts for production and to provide you the tooling and equipment required for your project, ensures that your every program requirement will be met before going into production.
This will be accomplished by utilizing our extensive knowledge of injection molded plastics, technology like MoldEx 3D, implementation of scientific molding practices and in-house tool building capability. In short, the Idea Factory's goal is to develop a manufacturable product with superior quality.
Whether it is a new program or transfer, the extensive experience of our team will help bring your project to fruition quickly, on time and get you to market faster!
You and your team will have peace of mind knowing that the Idea Factory's experienced team of individuals are diligently working for you to enhance your competitive advantage and time to market.  At Empire Precision Plastics, your project success is our success. The Idea Factory- Where your ideas take shape!